Businesses of all shapes and sizes rely heavily on social media but don't control the platform so they're at the peril of who the platform determines should see their posts.   

On the other hand, they have complete control over their company website.  Blog posts and videos on their website aren't limited by the character count restrictions or video time limits of the social platforms. Those platforms though are a great way to lead more traffic to a companies website.

There are a few tactics to drive viewers' to your business's website so let's break them down!
Include a Call to Action in Your Profile
A call-to-action that is part of your company profile is important for potential customers who found your company page and is ready to learn more.  Don't make them search posts for it! 
There are a couple of options to consider for a profile CTA. 
Link to Your Home Page
A simple link to allow viewers to learn more about your company and more specifically, how you help your customers.
Link to Lead Pages
Lead magnets are a perfect way to get prospects into your sales funnel.  If you are trying to promote a specific product or service which requires nurturing, include it as part of your profile.  If you have multiple lead funnels, rotate out your offer as a way to test your offerings.
Create A Links Page
A common practice on Instagram profiles is worth mentioning as well - the "Links To" page.  If you frequent Instagram, you'll see a lot of businesses mention their "Link in bio" at the end of posts.  The link typically goes to a page that has a high-level introduction to their products and services along with links to their other social media accounts.  This is a great way to highlight various services or products that they offer in benefit/value.  Don't be the business that pays a 3rd party service for this service!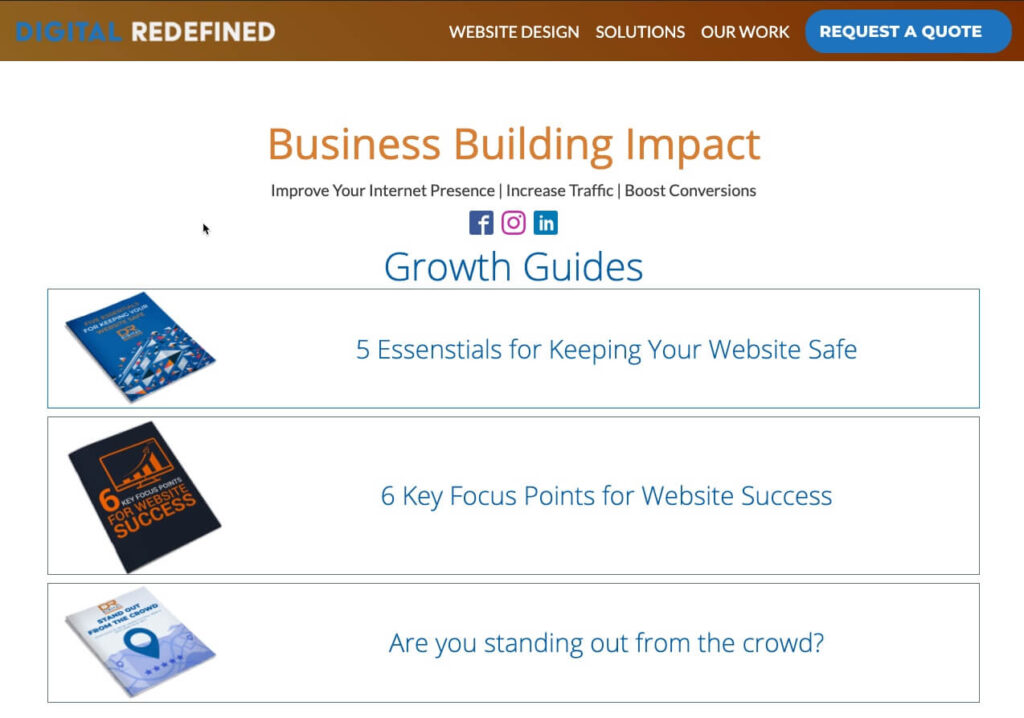 A better strategy is to create a links page on your own website that drives traffic to your business's website instead of a 3rd party.  This can have a positive impact on search rankings along with the benefit of having your specific design and branding.


Promote Blog Content
So instead of posting content to only social media, post it to your website and use teaser posts to lead viewers to your website.
The key to this is publishing a social media post that makes the reader want to click through to your blog post.  A blurb or teaser that highlights exactly what they will get out of the post is a perfect place to start.  Tease them with a question that the post answers or a pain point they may have that you address. 
If the post includes a story, include an excerpt that compels them to want to know the whole story.  You don't have to start with the beginning either!  Sometimes a post that highlights the ending will make them want to know how the story started if it's one they can relate to.
Tip: If you are sharing posts on LinkedIn, do not add the link to the post itself. Not only does it count towards your character count (3000 characters as of June 2020) but it's been noted that your posts with links in the post. Instead, add the link as a comment to the post.
Concentrate on Sharing Visual Content
Posting to social media means fighting other businesses (and sometimes kittens) for the attention of your viewers.
Consider featuring a branded image that highlights the topics of your post and the benefits your reader takes away.
Is it about a product or service?  Use wording that appeals to the pain point or value that they desire.  A recent review of the product or service describing how it impacted a delighted customer is another great teaser.
Does the article include an infographic?  Include the high-level information that attracts a reader to learn more.
Make Your Content Easy to Share
While post-sharing features are common, it's worth a mention because so many businesses don't take advantage of this.  Don't make your readers work to share your content. 

Using a plugin such as Social Warfare makes these features easy to implement.  They have a free version that lets visitors share posts to all of the popular social media platforms while the paid version allows gives you the ability to share to more specialized platforms such as Houzz. 

The paid version also provides more control over which image is shared with your post.  For example, you can assign images that are optimized to individual platform specifications.
Before you go looking for it, let me break the bad news that Instagram is not an option for sharing your content. They have never intended the platform to be one you can share the content to.
Optimize Your Social Post Calls-to-Action
Don't leave your post reader hanging! Every post to social media should be with the intention of telling the reader what to do next.  Without this, they will just move on to that cute kitten photo.  Or worse yet, read a post from your competitor!

For posts that are a teaser for a blog post, the call to action is easy; send them to the blog post! 
Posts that are about a product or service could have a variety of CTA's that you can use.  Test different types and tactics to see what works best for your industry and targeted audience.
Lead Magnets
Lead Magnets are great for getting prospects at the top of your funnel.  Sending these links to specific landing pages on your site and offering ebooks, case studies, or calculators lets you start the nurturing sequence.
Book A Demonstration
Your content schedule should include posts that include information needed by prospects at any step of your funnel.  Posts that handle bottom-of-funnel topics can be used to drive viewers to case studies and even book a demonstration of your product or service. 
Schedule an Appointment for Service
When you run a service-based business, sometimes the best message is a direct one.  A great example of this is a heating and cooling company.  A post about an A/C unit that's not cooling a house should lead right to the scheduling page on your website.  
What Time of Day Should You Post? 
Every platform has its ideal time for posting to increase exposure.  CoSchedule has a post that advises optimal times for each platform.  If you're worried about remembering to post at a specific time, there are numerous services that let you schedule and automate posting to social media platforms.

If you have budget constraints, Facebook Pages have a post feature that lets you schedule posts for both Facebook and Instagram.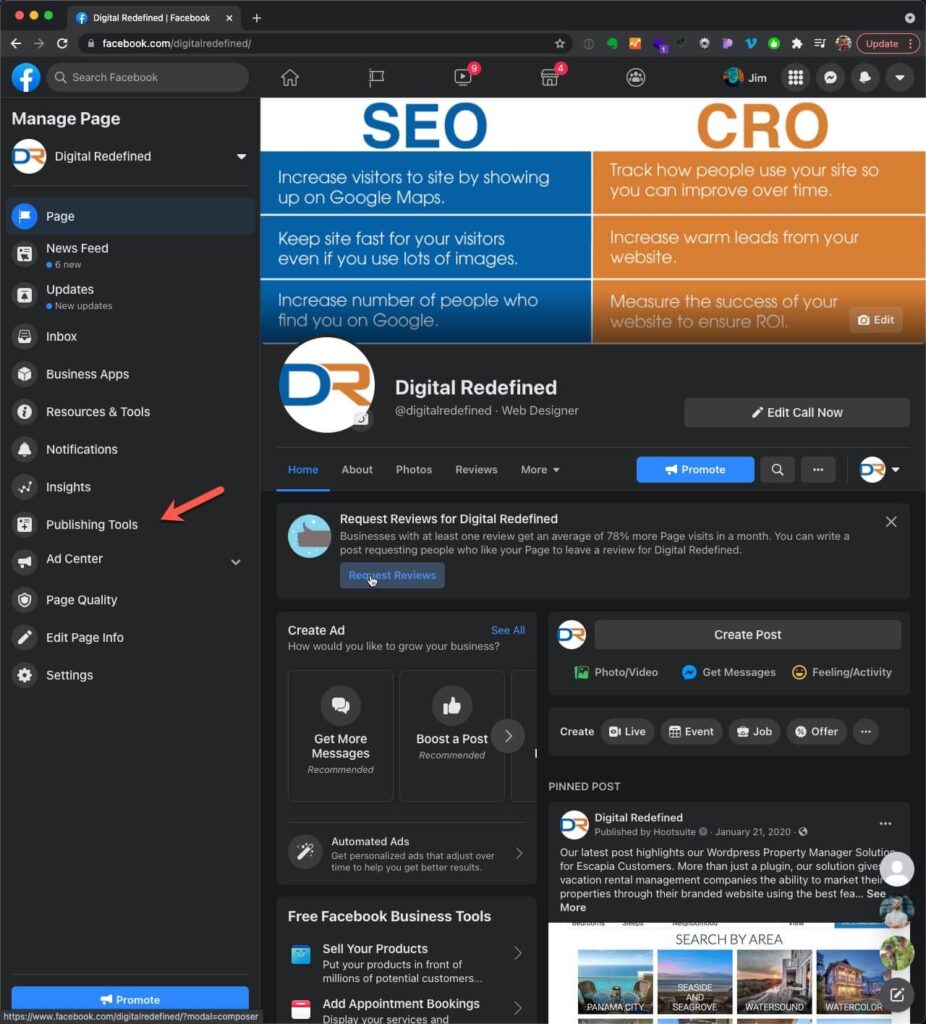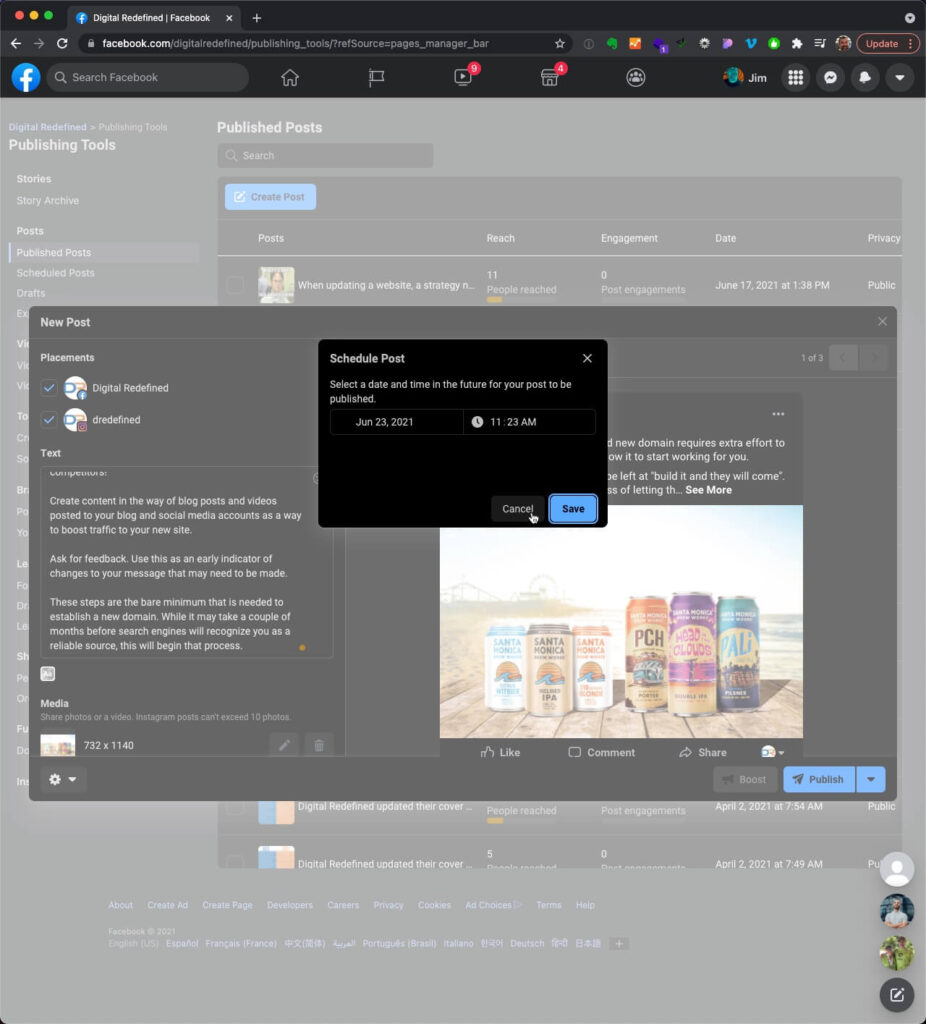 Facebook posts are *limited* to a 63,206 character count but Instagram only allows 2,200 characters so you may have to schedule separate posts to each platform if your post is over the Instagram limit.
For additional platform posting options,  Hootsuite has a free tier that allows posting up to 2 different platforms if you want to start automating without being to a payment.
Engage with Your Audience Consistently
Once you've posted,  you're not done with opportunities to drive traffic to your website! Keep the conversation going with viewers who comment.  Answering questions and providing links to additional information increases traffic to your site and increases trust in your brand. 
There is a bit of strategy that you can use to increase post reach and stretch out the lifetime of your post by delaying commenting. As readers respond to your social media post, delay responding to some by 2-3 days.  The social media platforms will continue to display your post as long as it is active so the platforms see the additional commenting as the post being active.
Get That Traffic Moving!
Driving traffic to your website requires an investment in time to make it worth your while.  Having a content plan and someone whose responsibility includes implementing these activities consistently will pay itself back in the way of long-term exposure. 
The increased traffic will have a positive impact on your search rankings as well as your bottom line.